Hi everyone. I am very honored and humbled to announce my recently becoming a CureClick Ambassador. With this priviledge comes my being able to proudly post their Badge on my Booktoots' Healing website's front page.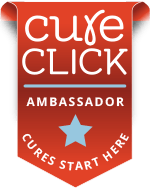 CureClick is an initiative developed in partnership with WEGO Health, of whom I can proudly state has selected me to be a Patient Leader. Education, patient awareness, and connecting people throughout community are key concerns for both WEGO Health and myself.
Feel free to click on this link to learn more about My Relationship with CureClick:
https://www.cureclick.com/my-relationship/
Find my tkr blog post about becoming a CureClick Ambassador interesting? Kindly share!
AUTHOR NOTE: Booktoots Healing helps total knee replacement patients find support throughout recuperation and beyond. Its mission is for patients to understand they are not alone in their ordeal with either a tkr or other physicality concerns.
This award-winning site is owned and operated by Marie Buckner, a published author and tkr patient who has been living with various physicalities for over 40+ years. She enjoys sharing her experiences to help others going through the same thing.
Marie is also a proud WEGO Health Patient Leader and CureClick Ambassador.